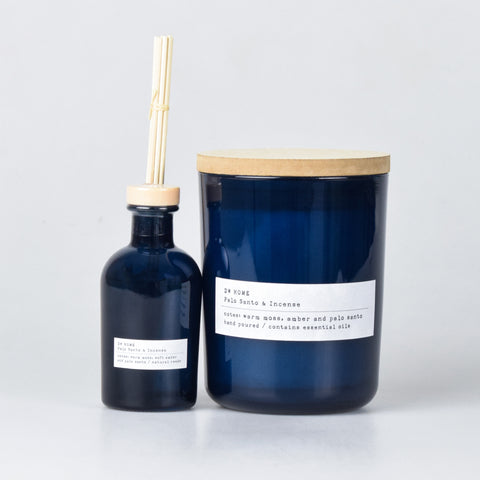 On Sale!

Palo Santo & Incense | Typewriter Bundle (Save $!)
BUNDLE DETAILS
The perfect blend of earthy Palo Santo & smoky incense - in a candle & flameless Reed Diffuser duo perfect to fill spaces of all kinds with balanced, rich fragrance.
FRAGRANCE PROFILE
Warm palo santo combines with moss and amber, balanced by soft spices, green herbs, sandalwood and musk.
**Discount codes or special offers cannot be applied to this item.**
Typewriter Bundle ($42 Value!) Includes: 
(1) Large Double Wick Candle ($24 Value)
Burn Time: Approx. 56 hours | Dimensions: 4" x 4" x 5.25" | Fill Weight: 15.3oz | Weight: 2.8 lbs

(1) Scented Reed Diffuser ($18 Value)
Dimensions: 3.375" x 7.5" x 2.5" | Fill Weight: 3.4 fl oz (100ml) | Weight: 1.0 lb
More From the New Arrivals! Collection