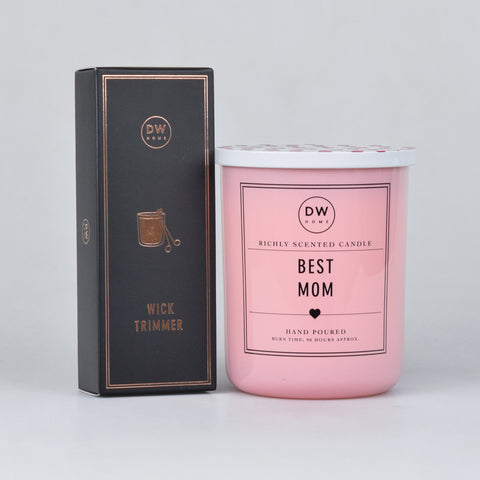 On Sale!

Best Mom Bundle (Save $!)
BUNDLE DETAILS
The Best Mom deserves the best burns! Make it obvious who the favorite is with this XL Best Mom scent and packaged Wick Trimmer bundle (don't worry we won't tell anyone!)

**Discount codes or special offers cannot be applied to this item.**
Best Mom Bundle - $45 (Save $7) 
Includes:
(1) Best Mom:
XL Double Wick
Burn Time: Approx. 90 hours | Dimensions: 5" x 5" x 6" | Fill Weight: 26oz | Weight: 5.0 lbs
Fragrance Profile
Fresh dune roses and a sunny blend of dew-covered peony nestled on sun-bleached driftwood with hints of ambered sand, and sea salt.
(1)Wick Trimmer | Black:

Simple and sophisticated way to cut and maintain your wicks at a safe burning length of 1/4". A long handle and comfortable design allow you to easily reach into a well-loved candle jar to trim wicks and collect trimmings without a mess.
Box Dimensions: 3" x 8" x 1.75" | Weight: 8 oz

More From the Mother's Day Collection