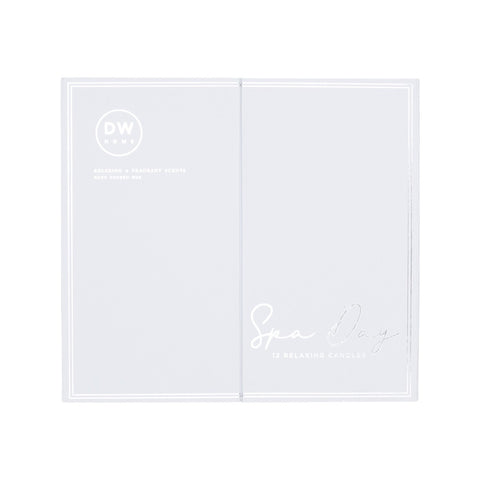 SPA DAY | Box Set
BOX DETAILS
12-pack of favorite relaxing and fragrant scents, presented in our classic Signature 2.4 oz glass votive jars, featuring a printed themed box.  Included in these bundles are 12 scented votives, perfect for gifting. 
***Discount & promo codes cannot be applied to this item.***
Includes:
(1) Tranquil Lotus 
FRAGRANCE PROFILE:
Spicy cardamom molds with sparkling, white lotus blossom, jasmine and calla lily brightened with precious sandalwood, soft musk and amber. 
(1) Calming Waves
FRAGRANCE PROFILE:
White florals embraced by sun warmed red currant blended with zesty mandarin fruit and creamy coconut milk with oriental amber, warm vanilla and soft musk. 
(1) Relaxing Lavender 
FRAGRANCE PROFILE:
An herbaceous blend of fragrant lavender and soothing chamomile with notes of bergamot and a hint of wild musk.
(1) Sage Smoke
FRAGRANCE PROFILE:
Smoked sage and crushed hemp leaf combine with hints of cypress and sparkling bergamot 
(1) Green Tea Leaves 
FRAGRANCE PROFILE:
Sun warmed green tea leaves steeped with sliced lemon peel, infused with floral aspects of tranquil jasmine petals. 
(1) Palo Santo 
FRAGRANCE PROFILE:
Warm palo santo combined with touches of green sage, spiced peeper, juniper, moss and ambered woods. 
(1) Rose Quartz 
FRAGRANCE PROFILE:
Fresh rose petals centered with hints of white jasmine and soft vanilla. 
(1) Iridescent Moonstone 
FRAGRANCE PROFILE:
Warm amber and soft cashmere, balanced by toasted vanilla and tonka bean. 
(1) Spa Day
FRAGRANCE PROFILE:
Aromatic rosemary and camphor accented with spearmint and eucalyptus. 
(1) Soothing Crystal 
FRAGRANCE PROFILE:
Sea-misted ozone and crystal marines infused with blooming tropical florals, smooth driftwood, herbal greens and a touch of musk. 
(1) Lavender Chamomile 
FRAGRANCE PROFILE:
Fresh crushed lavender buds spuns with aromatic lavender leaf and soothing chamomile. 
(1) Cooling Eucalyptus 
FRAGRANCE PROFILE:
Crushed eucalyptus leaf freshened with crisp mint and touches of aromatic rosemary rest upon fresh moss, wood and musk bed. 
More From the New Arrivals! Collection