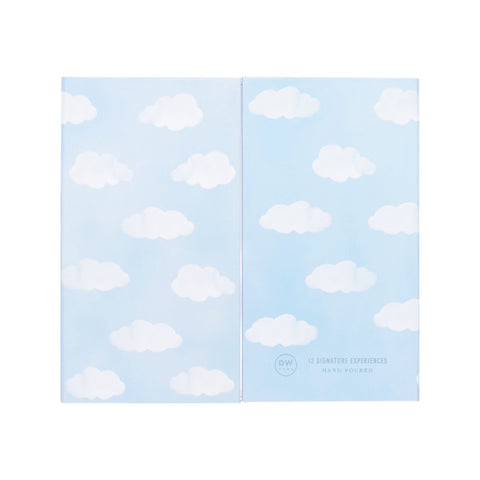 SIGNATURE EXPERIENCES | Box Set
BOX DETAILS
12-pack of favorites from our Signature Experiences collection, presented in our Signature 2.4 oz glass votive jars, featuring a printed themed box.  Included in these bundles are 12 scented votives, perfect for gifting. 
***Discount & promo codes cannot be applied to this item.***
Includes:
(1) Sleeping In
FRAGRANCE PROFILE:
Lavender buds sparkle with refreshing notes of eucalyptus and green fir swirled with aromatic sage, white citrus and warm tonka bean.
(1) Sunday Brunch
FRAGRANCE PROFILE:
Zesty blood orange, effervescent tangerine and sparkling lime lifted with fruity red wine and sweet wild berry.
(1) Beach Day
FRAGRANCE PROFILE:
White capped surf washes golden sands as the scent of warm skin and sun lotion mixes with salted beach grass and fresh air.
(1) Bubble Bath
FRAGRANCE PROFILE:
An indulgent bubble bath aroma captured in the delicate scent of dew-misted freesia and rose with soft powder aspects and musk infused woods.
(1) Rainy Day
FRAGRANCE PROFILE:
Splashes of ozone nestle in the freshness of rain misted florals and dewy greens wrapped with a blanket of white woods and musk.
(1) Apple Picking
FRAGRANCE PROFILE:
Lay upon a blanket surrounded by meadow grass and dainty daisy swirling with dandelions and clover.
(1) Summer Vacation
FRAGRANCE PROFILE:
Suntan lotion, luminous beach flowers and ebbing tides wash over driftwood and sea kelp dusted sands.
(1) Backyard Bonfire
FRAGRANCE PROFILE:
Glowing embers gleam above fragrant hickory and pine wood aflame with cedar and smoked oak fused with a touch of dark spiced rum.
(1) Staycation
FRAGRANCE PROFILE:
The freshness of luminous lavender and citrus embraces the floralcy of deep rose balanced by amber, musk and wood.
(1) Happy Hour
FRAGRANCE PROFILE:
Sweet, juniper berry blended with elements of bright green fir and sparkling citrus.
(1) In The Garden
FRAGRANCE PROFILE:
Pure geranium and soft spearmint embrace touches of fresh peony and blooming lily over ambered greens and shimmering bergamot.
(1) Spa Day
FRAGRANCE PROFILE:
Relax and revive your mind with the aromatic scent of rosemary and camphor spiked with spearmint and eucalyptus.
More From the All Collection