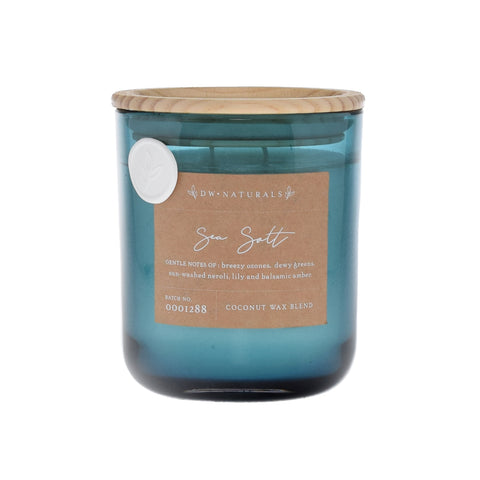 On Sale!


Sea Salt
DW Naturals  | Essential Oils | Coconut Wax Blend
**Warning: Please carefully remove and dispose wax seal from jar before burning.**
FRAGRANCE PROFILE
Gentle notes of: Breezy ozones, dewy greens, sun-washed neroli, lily and balsamic amber.

DETAILS

Decorative Wooden Lid
White Wax Seal Accent
Medium Double Wick
Burn Time: Approx. 40 hours | Dimensions: 3.75" x 3.75" x 4.75" | Fill Weight : 11.7oz
Large Double Wick
Burn Time: Approx. 56 hours | Dimensions: 4" x 4" x 5.25" | Fill Weight : 15.5oz
More From the Sealed Collection
Sea Salt Reviews
Reviewed by Juan Gomez B.
Verified Buyer
I recommend this product
Just OK
The scent is great but the throw isn't very good. I didn't have to stick my face down into it to smell it. It wasn't that bad but it was very faint. I would probably re-purchase and use for a small room. Would be great in a small bathroom or laundry room.
Sea Salt Candle
One of my favorite candles; scent Carrie's well and smells like a day at the beach🥰🥰🥰🥰🌟🌟🌟🌟🌟