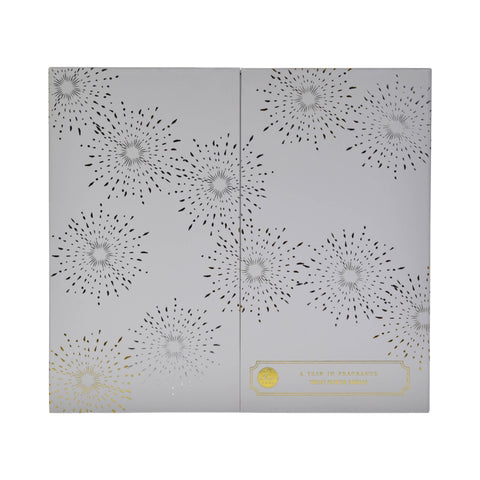 A Year In Fragrance | 12-Pack Box Set
BOX DETAILS
Find a fragrance that represents the spirit of each month of the year in this 12-pack of Signature Bestsellers, presented in our Signature 2.4 oz glass votive jars, featuring a printed themed box, perfect for gifting. 
***Discount & promo codes cannot be applied to this item.***
Includes:
(1) January | Tranquil Lotus
FRAGRANCE PROFILE:
Sparkling grapefruit, white lotus, and jasmine brightened with precious sandalwood and amber.
(2) February | Peony Petals
FRAGRANCE PROFILE:
A sparkling sunny blend of dew-covered peony illuminated by crisp notes of garden rose, sugared fresia and bright marigold.
(3) March | Relaxing Lavender
FRAGRANCE PROFILE:
Fresh crushed lavender buds spun with aromatic lavender leaf.
(4) April | Fresh Cut Gardenia
FRAGRANCE PROFILE:
Sun-kissed gardenia petals infused with blooming jasmine flowers.
(5) May | Calming Waves
FRAGRANCE PROFILE:
The fresh smell of the sea splashes over dazzling citrus, effervescent mandarin and sugared clementine with warm undertones of fresh-cut white cedar and musk.
(6) June | Wild Honey Nectar
Shimmering wild honey drizzled over an accord of creamy vanilla and cotton blossom. 
(7) July | Watermelon Fresca
Sweet watermelon with refreshing hints of summer cantaloupe and sugar cane.
(8) August | Tropical Luau
Sun-warmed coconut milk wrapped in fragrant notes of crushed vanilla bean and a touch of juicy tropical pineapple. 
(9) September | Apple Honey Butter
Brown sugar glazed apples blended with warm cinnamon, golden clove and grated nutmeg wrapped in sweet caramel honey drizzles and hints of pure maple syrup.
(10) October | Spiced Pumpkin
Harvest pumpkin interwoven with delectable notes of vanilla nutmeg, crushed cinnamon, and sweet brown sugar, baked into an all-butter pastry crust.
(11) November | Emerald Balsam
Fresh-cut balsam fir and Italian cypress enhanced with sage, and a touch wild thyme. 
(12) December | Peppermint Bark
Milk chocolate and white chocolate layered with crushed peppermint candy cane. 
More From the Bundles & Boxes Collection