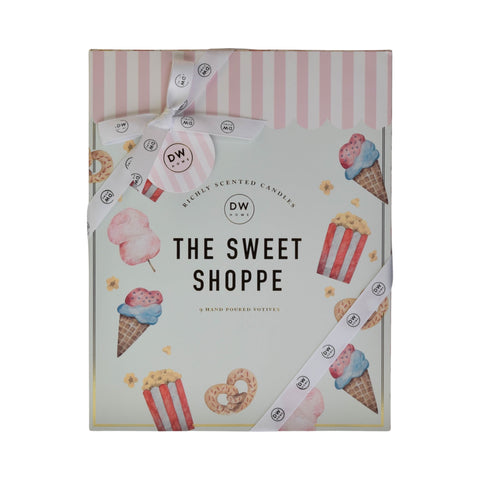 The Sweet Shoppe | 9-Pack Box Set
BOX DETAILS
An irresistible 9-pack of Signature gourmand favorites in a set that is sure to satisfy any craving for sugar! All presented in our Signature 2.4 oz glass votive jars and housed in a themed decorative box. 
***Discount & promo codes cannot be applied to this item.***
Includes:
(1) Chocolate Chip Cookie
FRAGRANCE PROFILE:
Fresh from the oven… Rich chocolate morsels mixed with warm vanilla bean and homemade dough baked golden brown and finished with a sweet sprinkle of pure sugar crystals
(2) Butter Pecan Ice Cream
FRAGRANCE PROFILE:
Roasted pecans and salted butter folded into fresh cream, vanilla bean and cane sugar.
(3) Cotton Candy
Pink sugar, sweet vanilla, and bright red strawberry accented with hints of fresh- picked raspberry creates the ultimate cotton candy experience.
(4) Cinnamon Sugar Pretzel
Artisan bread baked to perfection filled with warm cinnamon swirls, rich brown sugar, fruit-infused vanilla and soft milk.
(5) Sundae Funday
Vanilla ice cream, diced fruit and mixed berries wrapped in a fresh waffle cone topped with whipped cream, chocolate-drizzled peanuts, and ripe cherry.
(6) Peach Rings
Sugary peach goodness accented with golden apricot, juicy, ripe mango, and sweet vanilla blended together to create a delightfully gummy treat.
(7) Caramel Popcorn
Crisp, caramel glazed popcorn accented with vanilla bean and sugar.
(8) Rainbow Sherbet
A fruity kaleidoscope of vibrant pink, orange, and green rainbow sherbet swirled with zesty mandarin, sugared berry, and velvety vanilla cream.
(9) Fizzy Cola
The fizzy sparkle of crisp lime, lemon zest and spicy ginger warmed with a shimmer of cinnamon.

More From the All Collection