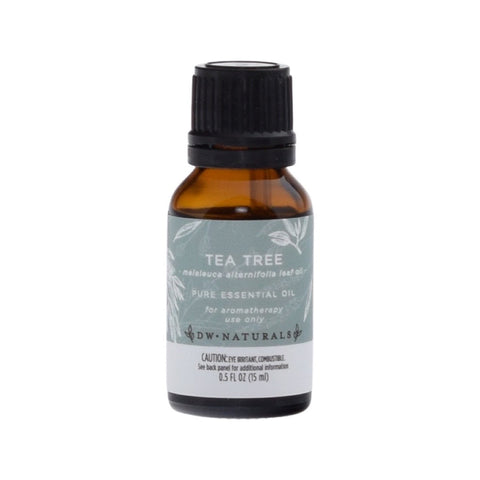 Tea Tree | Essential Oil
DW Naturals | Essential Oil
TEA TREE
100% pure, certified tea tree essential oil for aromatherapy and natural home fragrance.

Tea tree essential oil is known to be cleansing, purifying and renewing. 

INSTRUCTIONS FOR USE: This product is intended for aromatherapy use only. Natural essential oils are highly concentrated and should be used with care. Follow the instructions on your diffuser unit, taking care to not use more than 2-3 drops of essential oil per 100ml of water or other dillutant.  

CAUTION: EYE IRRITANT, COMBUSTIBLE.

If eye contact occurs rinse with water. Do not ingest. Avoid contact with skin. Keep out of reach of children and pets. Store bottle in upright position, do not expose to flame, excessive sunlight, extreme heat or cold. Avoid contact with wood surfaces and fabric. If spilled wipe up or wash clothing immediately. 
INGREDIENTS: Melaleuca alternifolia (theatre) leaf oil. Contains fragrance allergens. For additional ingredient information, click here. 

Made in the USA

DETAILS:

Box Dimensions: 1.25" x 1.25" x 2.90" | Bottle Dimensions: 1.13" x 2.72" |
Fill Weight: 0.5 fl oz | Weight: 0.2 lbs
More From the Flameless Fragrance Collection