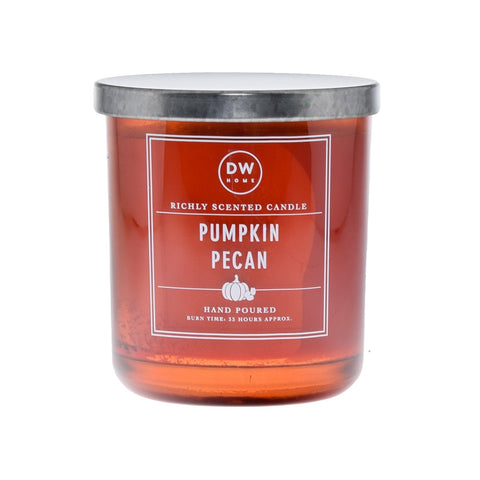 On Sale!

Pumpkin Pecan
Pumpkin Pecan Heaven

My favorite!

This is by far my favorite scent! Has a wonderful fall/ Christmas feel to it and it burns with a strong scent but not overwhelming.

Read More

My favorite fall candle ever

Smells amazing. Not always a fan of pumpkin, But this one is perfect. Sweet, but not tooo sweet, Pumpkin is there but doesn't steal the show. Spice, but not overpowering. Buttery, yes. Perfect blend of all scents,

Read More
FRAGRANCE PROFILE
Pureed pumpkin and chopped pecans combine with spicy nutmeg, aromatic cinnamon, and creamy clove, accented with vanilla-infused buttercream.
DETAILS
Galvanized Lid
Medium Single Wick
Burn Time: Approx. 33 hours | Dimensions: 3.75" x 3.75" x 4" | Weight: 1.6 lbs
Large Double Wick
Burn Time: Approx. 56 hours | Dimensions: 4" x 4" x 5.25" | Weight: 2.6 lbs
More From the Fall Collection