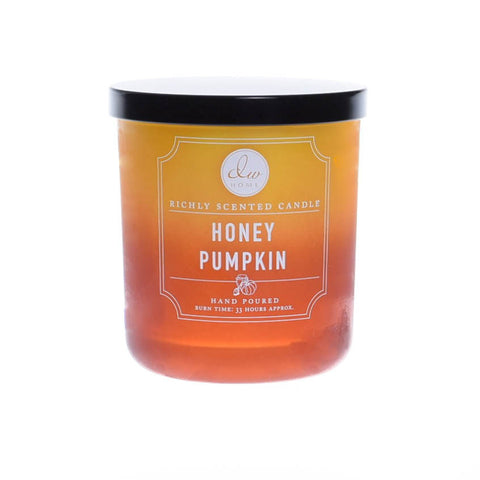 On Sale!



Honey Pumpkin
Unique

This candle is like no other! The scent is spiced pumpkin but sweet too! The smell fills the room and even lingers throughout the day. LOVE!

Read More

never burn another candle

this candle is, objectively speaking, the best candle i have ever owned. it smells sweet and warm, the scent is strong...

Read More

Favorite Fall/Winter candle of ANY brand

... The honey is so realistic and the pumkin is not overly spiced. It is so creamy and comforting and not too foody even though it is very sweet. I love it! When I get to the end, I burn the wax on a melter. Lasts forever! Rich scent

Read More
FRAGRANCE PROFILE
Cinnamon infused pumpkin with creamy honey butter, sweet vanilla nutmeg and spicy fresh ground cloves.
DETAILS
Medium Single Wick
Burn Time: Approx. 33 hours | Dimensions: 3.75" x 3.75" x 4" | Weight: 1.6 lbs
Large Double Wick
Burn Time: Approx. 56 hours | Dimensions: 4" x 4" x 5.25" | Weight: 2.6 lbs
More From the Signature Collection