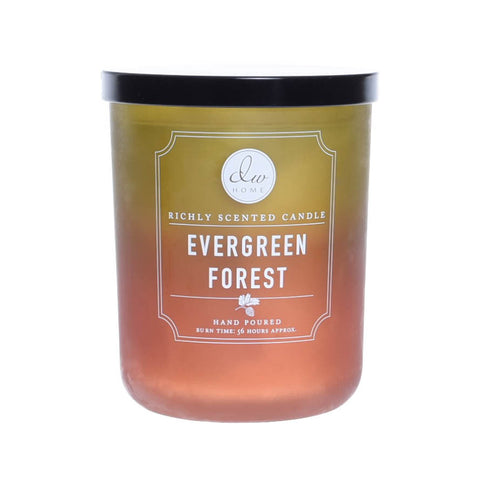 On Sale!


Evergreen Forest
THE BEST CANDLE DW MAKES

Evergreen Forest is my favorite DW Candle. It's not too strong but mixes herbal and citrus scents to form the perfect mix for any season. It's bright, vibrant, and "green" smelling it doesn't not overwhelmingly smell like pine which is why I love it so much. Definitely recommend this candle to anyone.

Read More

One of my favorites...

Although it's best in fall and early Spring, this candle is one that I always keep on stock in the house—perfect candle for early AMs, grabbing a book or just getting comfortable.

Read More

AMAZING Evergreen Scent!!!

I really love Evergreen scents and this one does not disappoint! I definitely pick up on the evergreen and green moss. It's such a wonderful combination and works beautifully! I snagged two and plan to stock up!!! The jar is really fun too!

Read More
FRAGRANCE PROFILE
Fresh evergreen and dewy green moss, accented by wet florals and warm leather notes.
DETAILS
Medium Single Wick
Burn Time: Approx. 33 hours | Dimensions: 3.75" x 3.75" x 4" | Weight: 1.6 lbs
Large Double Wick
Burn Time: Approx. 56 hours | Dimensions: 4" x 4" x 5.25" | Weight: 2.6 lbs
More From the Signature Collection