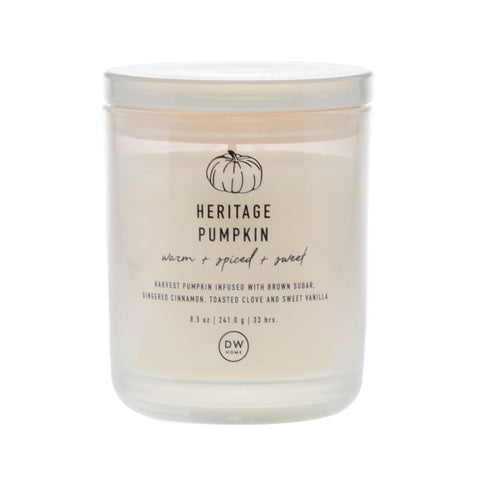 On Sale!


Heritage Pumpkin
HERITAGE PUMPKIN

Whoa! After smelling so many pumpkin candles they all start to smell the same with the exception of this one because the ginger sets this apart from all the others. This is my favorite pumpkin candle ever!

Read More

favorite candle

I love this candle! Its such a nice, sweet fall scent. It doesn't smell too sweet or too pumpkiny. its the perfect combination of scents and spices. Gives the room a very cozy smelling vibe. Looks pretty too!

Read More
FRAGRANCE PROFILE
Harvest pumpkin infused with brown sugar, gingered cinnamon, toasted clove and sweet vanilla. 
DETAILS
Medium Single Wick
Burn Time: Approx. 33 hours | Dimensions: 3.5" x  4.5" | Fill Weight : 8.5oz / 241g
Large Double Wick
Burn Time: Approx. 56 hours | Dimensions: 4" x 5.5" | Fill Weight : 15.1oz / 428.08g
More From the Fall Collection