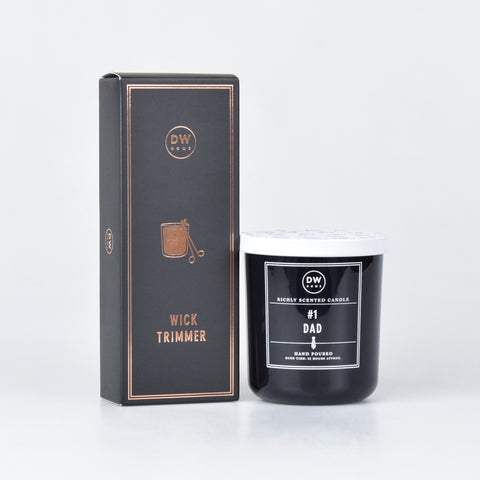 On Sale!

#1 Dad Bundle (Save $!)
BUNDLE DETAILS
A candle that says it all & a cool, special tool that Dad probably doesn't have already - one to keep that wick trimmed!

**Discount codes or special offers cannot be applied to this item.**
#1 Dad Bundle - $20 (Save $6) 
Includes:
(1) #1 Dad:
Medium Single Wick
Burn Time: Approx. 33 hours | Dimensions: 3.75" x 3.75" x 4" | Fill Weight: 9.3oz (264g) | Weight: 1.6 lbs
Fragrance Profile
Aromatic tobacco, sweet resin, and smoked teakwood accented with herbal davana and spice.
(1)Wick Trimmer | Black:

Simple and sophisticated way to cut and maintain your wicks at a safe burning length of 1/4". A long handle and comfortable design allow you to easily reach into a well-loved candle jar to trim wicks and collect trimmings without a mess.
Box Dimensions: 3" x 8" x 1.75" | Weight: 8 oz

More From the New Arrivals! Collection