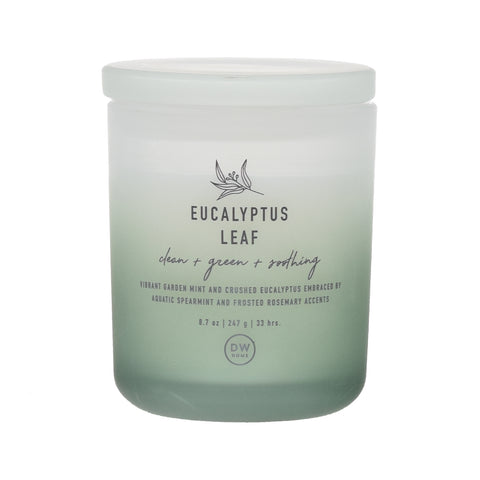 On Sale!



Eucalyptus Leaf
Very Fresh Scent

Really enjoyed this. As soon as I lit it, the candle emitted a really nice, fresh scent that was not overpowering.

Read More

Most effective air freshener I've ever had

It has a presence. This fragrance is light, fresh, and lingering but not heavy, bogged down or oppressive. It's like breathing in the top notes of a scent but never needing to put up with the heaviness of the smack-ya-in-the face base notes of some multi-layered scents. And it gets rid of unpleasant odors - or it at least masks them very effectively. I've never smelled anything like it. Not surprised it's their most popular fragrance. The imagery I get is sheer curtains flowing freely in the breeze.

Read More
FRAGRANCE PROFILE
Vibrant garden mint and crushed eucalyptus embraced by aquatic spearmint and frosted rosemary accents.
DETAILS
Medium Single Wick
Burn Time: Approx. 33 hours | Dimensions: 3.5" x 4.5" | Fill Weight: 8.7 oz | Weight: 2.0 lbs
Large Double Wick
Burn Time: Approx. 56 hours | Dimensions: 4" x 5.5" | Fill Weight: 15.4oz | Weight: 3.0 lbs
More From the Prime Collection